Stelvio is one of the original Ringers and has completed thousands of laps of the Nurburging. Here's a sobering report that clearly illustrates why car drivers should be careful not to cause fluid leaks and motorbike riders need to beware of them. Believe me, if Stelvio can have a big off, anyone can
This report is long overdue. About 5 months. And some parts will be missing, too. But there's reasons...
It was the second trip of the year. Due to the opening calendar, this time I decided to travel on a Saturday, May 14th (full closure), to be at the Ring on Sunday (full day opening) and Monday (full afternoon opening) and to drive back home on Tuesday.
Carla was not joining in, as she had to arrange for a different holiday calendar at her office, so this was supposed to be the first of a series of trips I was doing on my own.
Traveling alone on a motorbike is the best. Traveling alone in a car might be quite boring, and, in case the trip is long and implies an early wake-up, one has to be very careful not to fall asleep (despite several megabytes of rock music), but the real discomfort is that ... no one is there to help the driver with snacks!!
So I had to do a few more stops than usual, to open chips, biscuits and Haribo candies... However, since the Nordschleife was not opening at all on the day, I did not have the urge to arrive early and do some late afternoon laps. Which would have been impossible anyway, because it was raining when I arrived at the hotel in the Mosel valley.
I unloaded the van, parked my bike along a bunch of dutch bikes in the hotel's garage, had dinner and went for a good sleep, hoping for better weather the next day.
Well, it was slightly better, but not that much...
Just drizzling in the Mosel valley, but serious rain on the motorway almost all the way to Ulmen and the Nurburgring. No surprise there were not very many bikers around...
One of the things I hate most of the rain (besides getting wet) is that my bike immediately gets very dirty.
I can't understand why most other bikes, that have been travelling on the same wet roads as mine, look a lot cleaner. But I've learned where jet washers in the area are, so, before going back to the hotel maybe I will stop at one and do some cleaning...
What to do, while waiting for the rain to stop? Sit under cover of the Ring Taxi office.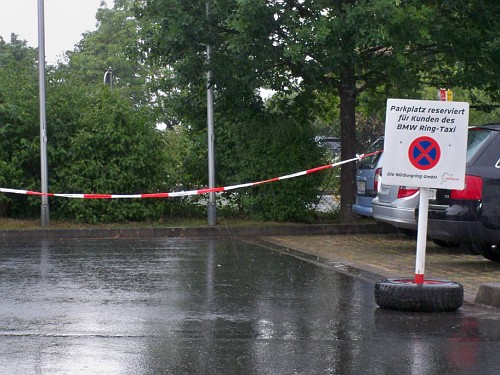 But then, the rain finally stops.
And I just have to wait for the track to dry. What to do, while waiting for the track to dry? Take a walk around the car park, and see what cars are on display.
A familiar sticker...
Not only Porsches:
Plenty of these Peugeot.
I wonder what is it with BMW. It seems that every new release looks worse than the previous one. Look how neat and essential this 3-series was.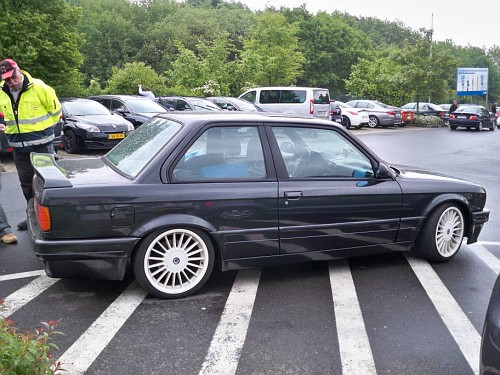 And finally, this is the right sportscar for me:
(Well, not exactly: this is probably a "Caravelle", comfortable people carrier, while my favorite is the "Multivan", luxury traveling living room). But the track was drying quickly.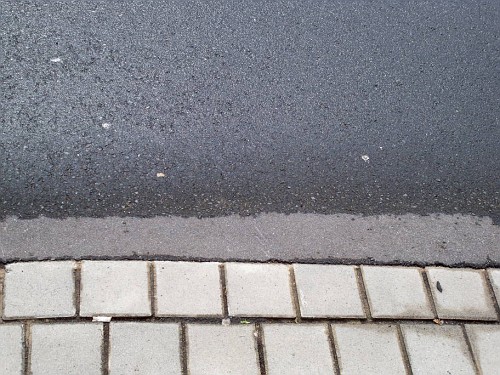 So, i was time to go.
I did a few laps on a track that was still wet in several places, but drying quickly. Few vehicles around, despite being a Sunday. Soon there were parts dry enough to put my brand new rear tyre to the test, and it responded very well (as Metzeler always do).
Months later, I found a few pictures of myself on the internet, carefully riding around on a wet track. I will carefully keep them.
Of course, there's no sunday without a closure.
This time, it was this Golf, dropping some oil.
But the weather was improving and I could hope for a nice and dry day on Monday.
I went for more laps, now completely in the dry.
Traffic was still very reasonable, so I was really enjoying the day. At about 5 in the afternoon I went to the Devil's Diner for a cup of tea.
While having my tea I made a call to Carla, at home, to tell her about the nice day.
Then, around 5.30, I picked up my helmet and went down the stairs, in the direction of my bike ...
Noisy place...
I'm streched in a small, noisy place...
There's a guy sitting at my side, in a sort of a uniform...
Sounds like a helicopter...
"Where are you taking me?"
"Wittlich"
Wittlich. I remember the name of the town. Probably I passed by, in one of my tours of the Eifel...
Hospital room...
Doctors around me...
"Hello. "You are in intensive care. You have several fractures on your right arm, that need surgery, but you also hit your head quite hard, and before we can operate we have to see how the hematoma in your head is evolving. We will have another scan tomorrow morning, and see."
At some point they show me an X-ray of my homerus. And it is an X-ray, literally: two separate pieces of bone, almost crossing one another in the shape of a X...
Not a pleasant sight...
I realize I can use my left arm, so I ask if they found my cell phone. Yes, they have my waist bag, and everything is in it, including my cell phone. I get it and...I realize I don't have my eyeglasses...
More search.
Yes!! Someone put them also in the waist bag!
So I can call Carla, just to tell her where I am, because I have no idea what happened to me.
This is still amazing me.
I had read about people involved in crashes and how their brains removes memory of the event, starting some time before the fact, and it seemed incredible.
But it's true.
The guy that was first on the scene of my crash (thank you, Bruce!!) told me that I slipped on a patch of fluid at Hatzenbach, hit hard on the tyrewall, and then my bike hit on me.
I have absolutely no memory of what happened between me going downstairs at the Devil's Diner and me speaking to the uniformed guy on the helicopter. That's three to five minutes before the crash completely missing (go downstairs, slowly walk to the bike, find keys, put helmet on, gloves, start engine, go to the barriers, maybe stand in queue, go through the cones, ride a couple of km to Hatzenbach...).
Bruce also tells me (thank you, Bruce!!) that after calling the emergency number he spoke to me in German, and later he was surprised to hear me talk to the marshalls and doctors in English, because he did not notice my non-german license plate.
But I absolutely don't remember talking to anyone before the guy on the helicopter. And I'm quite surprised that, despite the situation, I was lucid enough to talk to people in English.
By the way, Bruce also tells me that rescue arrived in about 180 seconds. And there was a lot of them: I have a picture of myself stretched at the side of the track, with seven (seven!) people assisting me.
Night...
I'm not really in pain (must be some substance in this fluid in all these plastic pipes connected to me). My right arm is in some hard bandage, resting on my belly.
I wonder if I can move it...
Let's try to rotate it...
Yes, it feels like moving...good!...
Then I look at it...and it isn't moving.
Not good.
Some nurse come checking me every few hours. They're all very nice, gentle and professional.
Morning...
They take me with my bed and all, and push me all the way to the scan. I am conscious that they put me in the machine. I am conscious of the scan.
Then I'm conscious of the fact that they are pushing me back to the intensive care room. Damn! ... They could not operate, again! ... My hematoma must be serious!
So, as soon as doctors come visit me, I ask: "Why didn't you operate?" They look at one another and reply: "We did!".
I was absolutely unconscious that they brought me to an operating room, put me to sleep, operated my homerus, kept me some time in an observation room, then brought me back to intensive care. And the operation must have been a serious one: I have a titanium shaft inserted in my homerus, with a few screws keeping it in place at the top and at the bottom.
Wonders of anaesthetics!
Later in the day, Carla arrived.
She took a plane, a couple of trains, went to the hotel to collect my luggage and the van, drove all the way to Wittlich and appeared, with a worried smile, in the intensive care room. She's been really wonderful. She took care of everything from then on (and she still can stand me!).
I received a text message, and then a visit from Ross and Bren. Another message from Matt. A visit from Jochen and Sofia. Thanks to all of them.
The doctors told me what plans they had for me: they fixed my homerus, but I needed another operation to fix my ulna and my elbow. That was going to be on Wednesday and, if everything went as planned, they were going to release me the following Monday.
So, Carla decided to stay until Monday, go collect my motorbike at a recovery place near Mullenbach (with the help of Bren and a friend of his, thank you guys!), then drive me home.
Meanwhile, they moved me out of intensive care, to a regular ward. Good! So I met new nurses, and they also were very nice, gentle and professional.
Then, an anaesthetist came to see me and discuss the expected operation ... in Spanish! (He said his English was not very good, so we managed to understand one another in Italo-Spanish).
This time I was consciuos that they were taking me to an operating room, and I was greeted there by one of the doctors who always saluted me in a loud Italian: "Buongiorno!!". I also was conscious of the observation room and all the rest. Everything was proceeding ok...
Then... a couple of misfortunes.
One morning, Carla, who had moved to a hotel near Wittlich, called to say that the van was broken. The clutch was not working anymore. She found a mechanic, but the guy had no spare parts in stock, so a few days were needed for the repair. So she had to hire a car and we changed our plans: we would leave the van in Wittlich, drive home in the rental, then, after a week ot two, drive back to Wittlich to return the rental and recover the van. Annoying, but viable.
But...
On Friday they sent me to X-ray, to check how my bones were evolving. On Saturday they called me to the emergency room, to show me my X-rays: the homerus was perfect, the elbow (several screws and a titanium plate) was also ok, but the ulna (a long titanium plate, held by five screws) was not properly aligned.
The young doctor said that bones are smart, and they would heal anyway, but he could not decide if it was possible to send me home or I needed another operation and he wanted to discuss the matter with his boss, on monday. Meanwhile, I had to wear a very uncomfortable rigid bandage.
Carla was not happy. Me neither.
Monday morning came: the plan was that Carla was going to pick me up around 8, and, if they let me go, drive both of us homr. Otherwise, she was going home anyway with the rental, and coming back the following weekend.
At 7.30, the young doctor came, and told me that his boss was absolutely refusing to release a guy with a poorly aligned bone, and they were going to operate my ulna again the very same day.
So I had to kiss Carla good bye and send her away alone on a 900 km drive, with prospects of another 900+900 km drive the following weekend. (She's a Saint.)
I had to talk to another anaesthetist, undergo more surgery (by this time, doctors and nurses in the operating room were greeting me like an old friend) and spend another week in hospital.
Fortunately, the place was very good: perfect assistance, both medical and practical, almost all personnel speaking (good) English, nurses with a sense of humour, very good food, and I was lucky enough to have very nice people to share the room with. Two german guys, whose wives came almost every day with very good cakes, offering me some. What could I do? I invited all of them to some Italian hospital, so that I could bring... Pizza!!
By the way, I'm surprised of how many medical terms I know in English. I could even teach some: on my last day, a nurse asked me "What's the English for these things I am removing from your arm?" "Stitches."
And I learned some more.
One morning two giggling nurses came to see me, with a German-English dictionary, and asked me if I had... "bowel movements"... From then on, everytime I met one of them in the corridor, I saluted with my fist in the air, saying "Bowel movement!! Bowel movement!!"
My left fist. Actually, I had to learn to do a lot of things with my left arm.
Feed...wash...shave...turn keys...
And there's things that are almost impossible to do with your left hand: use scissors; crack nuts; open bottles of sparkling wine.
And there's things I did not expect to be asking to waiters in restaurants: "Could you cut my pizza in slices, please?"
And there's restaurant orders that turn out to be big mistakes, for a man with just one (good) arm: mussels.
And now and then I think I would like to go to a Chinese, or Japanese restaurant, but...
However. It's exactly five months after the accident. I've been through a lot of (very painful) rehab sessions. My arm is still very weak, elbow flexibility is quite good, even if not yet back to normal. The real problem is with my radial nerve, which still does not control extension of my wrist and fingers.
To be clear, everytime I go to my garage, I try to hold the handlebar of one of my bikes and grab the brake lever... and I can't.
Doctors tell me that healing of nerves is something that can take an awfully long time, and I have a lot of exercises to do, including wearing this "thing" for some time every day:
Stelvio Verdiani October 2011